S2 (-3) - Adult 2013
Baseball Bat
The S2 BBCOR is a two-piece hybrid with a composite handle and aluminum barrel. The S2's two-piece design allows it to whip through the zone with some serious bat head speed, and helps drive balls deep into the gaps.
A streamlined barrel design for a lighter swing weight and lower MOI
Patented ConneXion™ uses "hinge" technology to eliminate vibration
---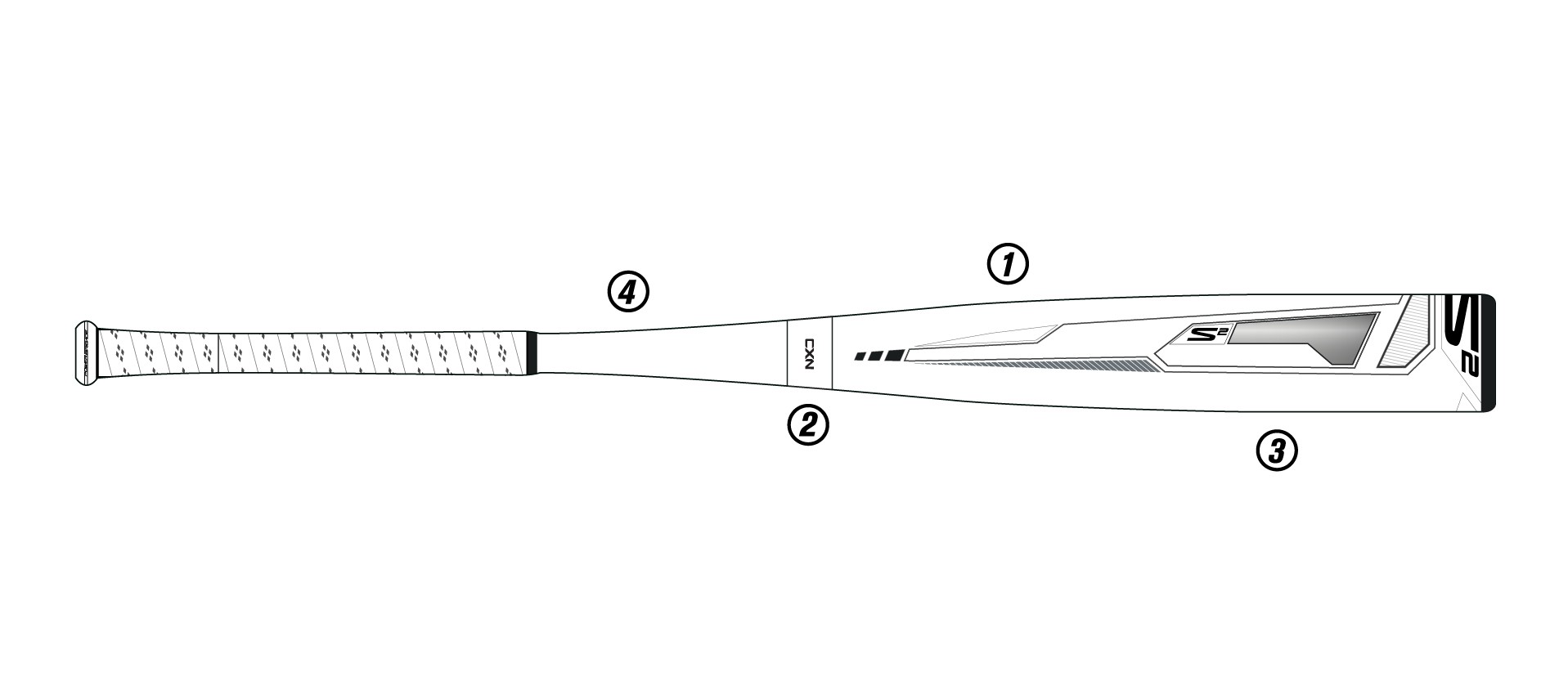 | | | |
| --- | --- | --- |
| 1 | Speed Design | A streamlined barrel design removes excess mass from the barrel for a lighter swing weight and lower MOI |
| 2 | CXN Technology | Patented ConneXion™ uses "hinge" technology for efficient energy transfer, while isolating the handle from the barrel to eliminate vibration |
| 3 | THT100™ Scandium Alloy | Easton exclusive alloy with extraordinary toughness for superior dent and crack resistance |
| 4 | SIC™ Carbon Handle | Solid Impact Construction handles use spiraled wrapped black carbon fibers to tune out harsh vibration delivering better feel and a more forgiving bat |
| 5 | Certification | BBCOR |
Rated

4.7

out of

5

 by

33

reviewers.
Rated

2

out of

5
 by
Jake
Great Bat until it breaks
I recently had the 2012 S2, and I loved it. But the bat chipped on the inside, so Easton sent me the 2013 model. First pitch I hit a deep fly ball, and after that I hit well with the bat. However, less than a month after I got it, the barrel started shaking around, and the bat went dead. Good weight/feel off of the bat, but poorly made. I've had 3 of my teammates with the same problem. I used to love Easton bats, but until they fix their connection pieces, I'm not very happy with them.
August 4, 2013
Rated

5

out of

5
great swing speed
I had the 2012 Easton S3. ive always stayed with one piece bats, but when I swung with the 2013 S2 I feel in love with it. My exit speed was 10 MPH higher than what it was with the S3.
June 24, 2013
Rated

5

out of

5
 by
NatsBaseball123
Great feel, quicker bat speed, high quality
I am traveling baseball player. My on base percentege increased when i started using this bat. i have used easton since he was five. From the raptor to the sv. This is by far one of their greatest bat in the power brigade.
June 12, 2013
Rated

5

out of

5
 by
Trevor39
Great Bat!
I love my S2! I play with a wood bat also, but when I need/want a big hit, I pull out my easton as every contact with the ball flies!! For all you wood bat lovers out there, It swings just like a wood bat, but with a much bigger pop!
June 1, 2013
Rated

5

out of

5
 by
JoeN2424
Fantastical
I used a regular composite bat in games until one person told me to try their bat. I took it and on the first pitch it was out of the park. I thought it was just another metal bat but then I looked closely and saw that it was this bat. I would recommend this bat to anyone who is 12 or over because of the amazing feel and the distance you can hit the ball with this monster bat.
May 30, 2013
Rated

5

out of

5
 by
Kohl Garnero
The best bat I ever had
I had a 2012 S2S it defected so easton sent me a S2 and i feel in love with it. It doesn`t feel like a -3 bat it feels to light that drove all of my friends crazy and it has the best pop ever i just love the bat
March 21, 2013
Rated

5

out of

5
 by
kadenman24
For a drop 3 this bat rocks
My son is 14 and used a drop 10 last year.. The step up to the S2 BBCOR has been great . The weight balance is smooth helps with bat speed through zone. The vist from doctor long ball is going to be often this summer.
March 14, 2013
Rated

5

out of

5
 by
Warrior27
This product has great features.
My son loves his S2 bat. The two piece design has assisted him in increasing his bat swing velocity. Due to this, he is hitting the ball with more power. This has improved his confidence which is vital to the process of hitting.
March 13, 2013