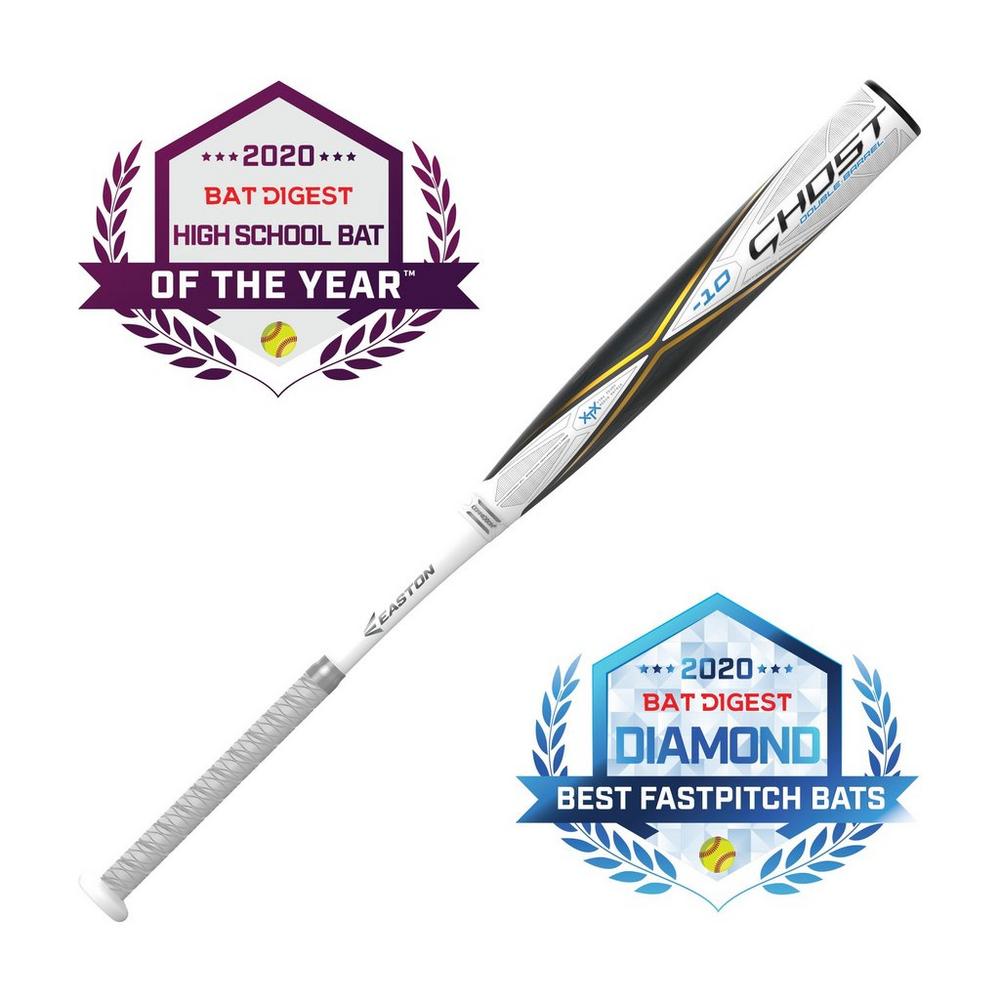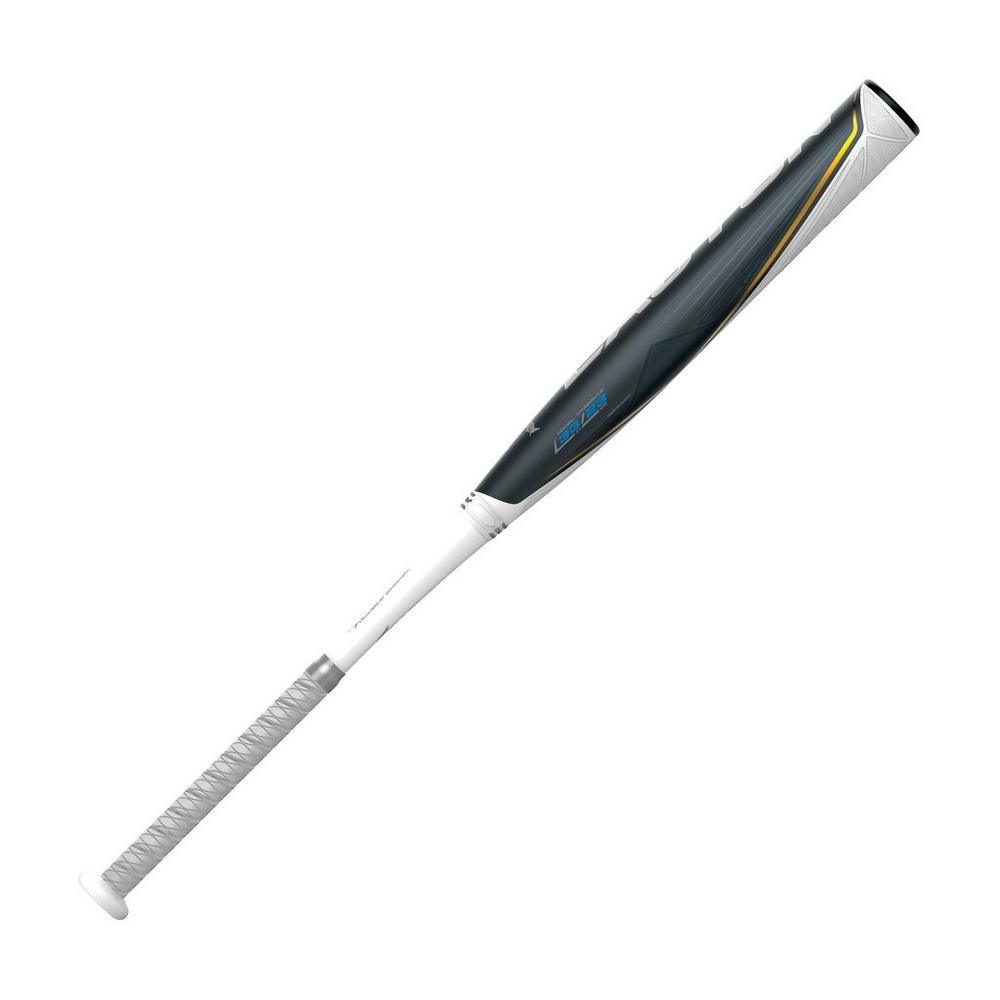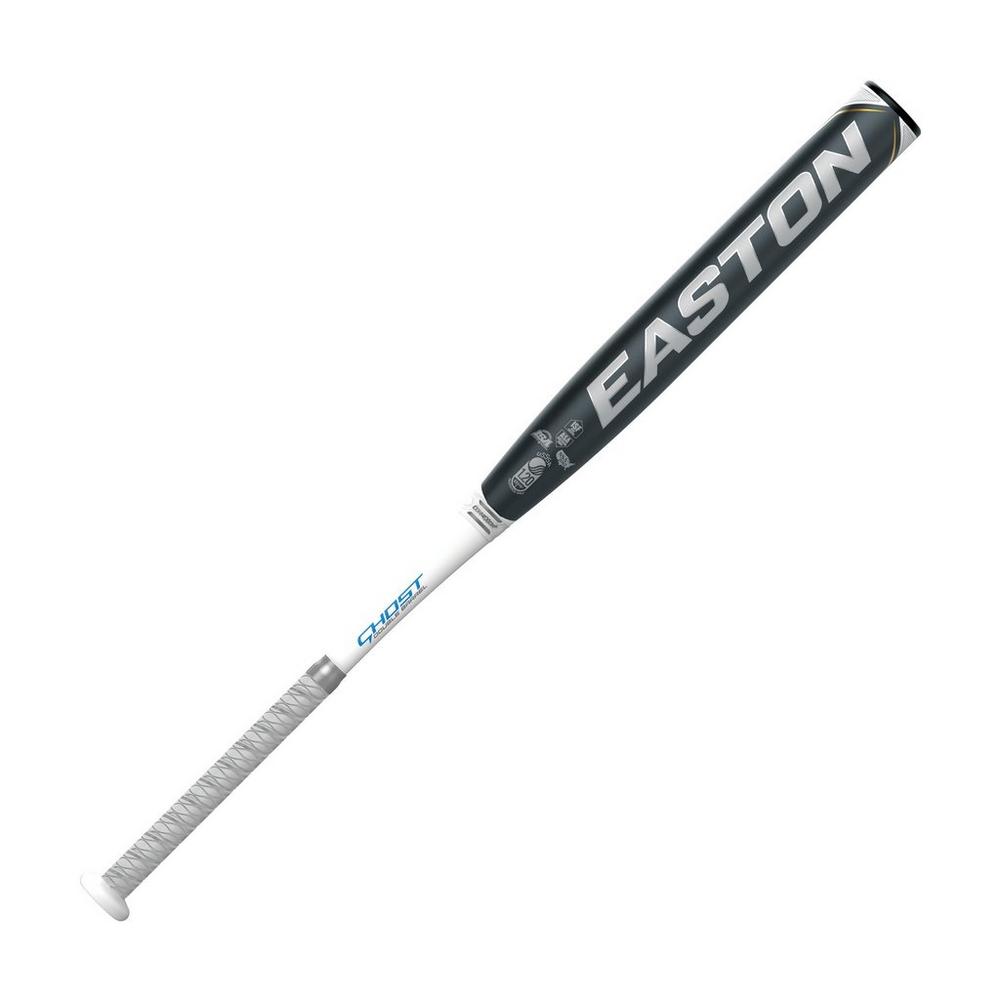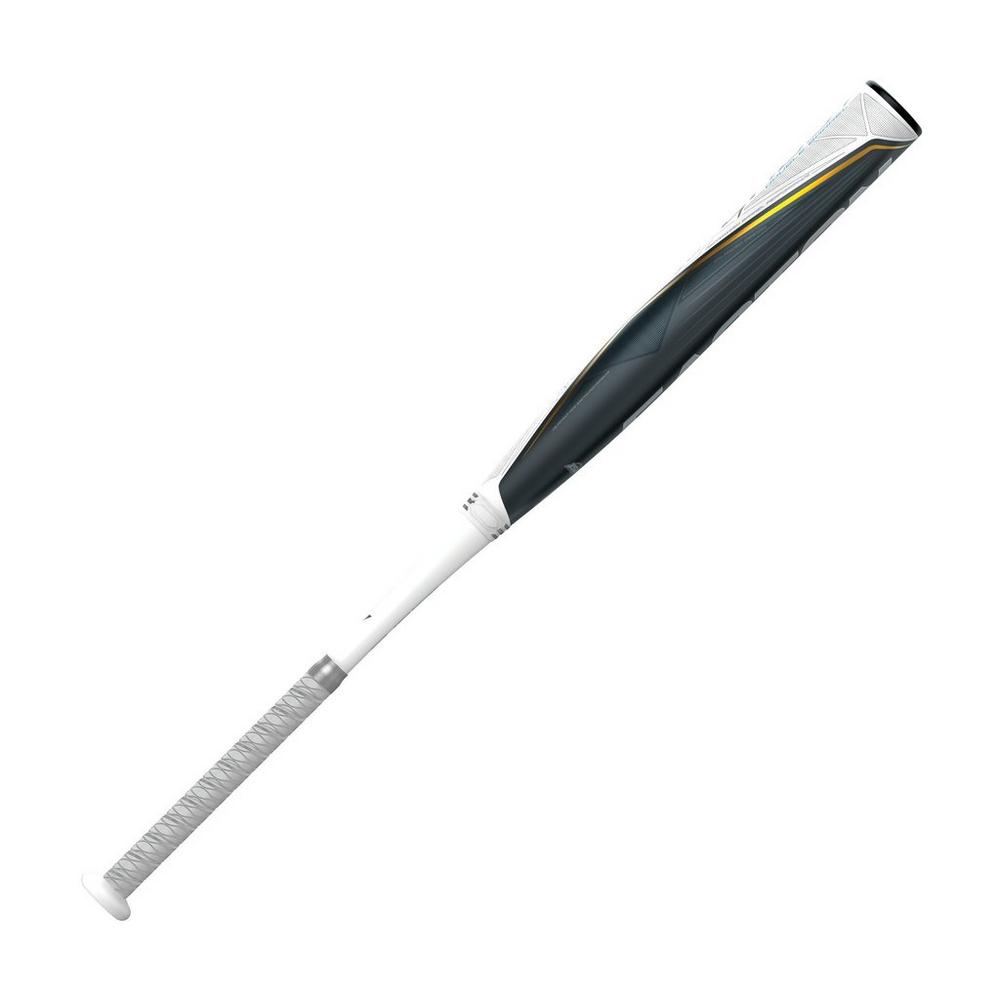 Images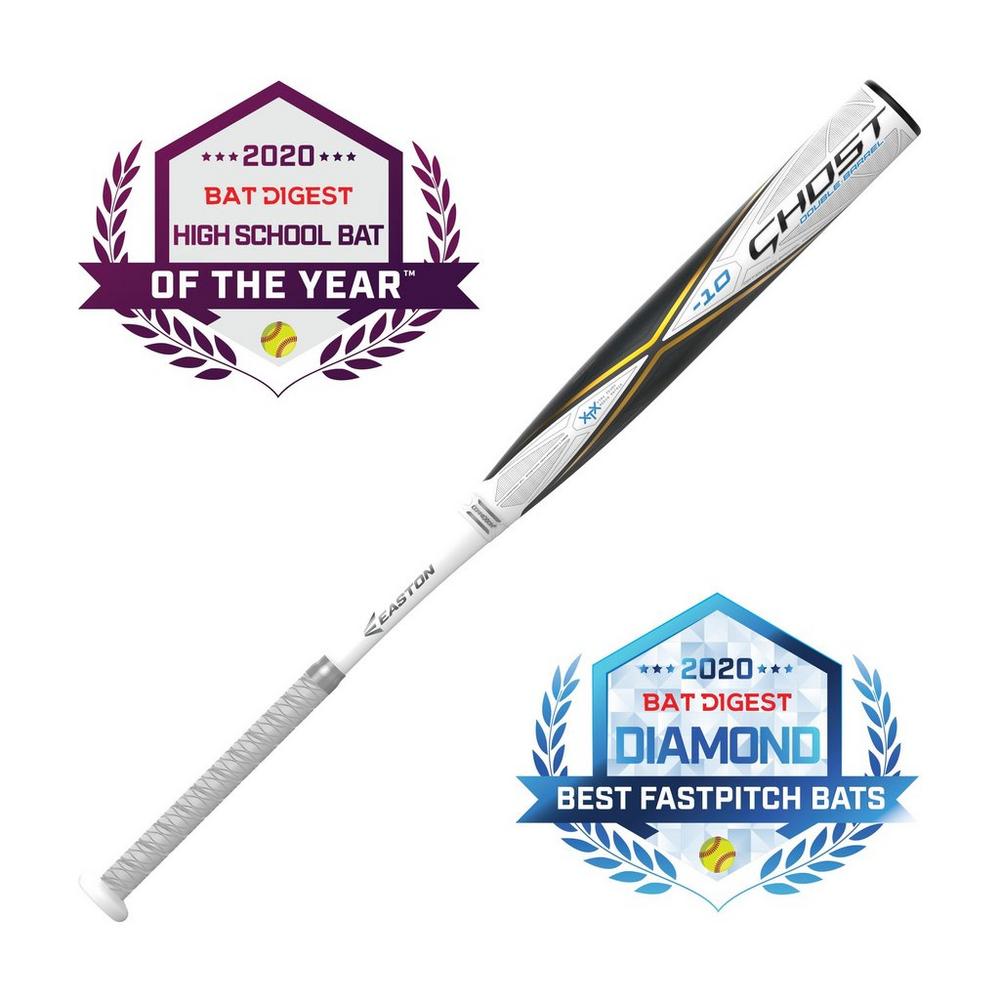 GHOST -10
FASTPITCH EVENLY-BALANCED DOUBLE BARREL BAT
Item # FP20GH10
Details
https://www.easton.com/fastpitch-softball-equipment/fastpitch-softball-bats/dual-asa-usssa-approved/ghost--10-FP20GH10.html
GHOST -10
is rated out of
5
by
263
.
bvseo_sdk, dw_cartridge, 17.1.0, p_sdk_3.2.0
CLOUD, getAggregateRating, 61ms
reviews, product
The hottest bat in the game is now approved for play on ALL FIELDS! USSSA? Yep. USA/ASA? Yes. ISF, NSA, ISA? Yeah! One bat to rule them all. Easton's® Dual Stamp Ghost Double Barrel bat features a patent-pending DOUBLE BARREL design that is engineered to provide players the best possible feel, pop and sound. Every level of hitter will experience success with the Ghost due to its unique double-barrel construction, 2-Piece Connexion+TM technology featuring Nitrocell™ foam for a better overall feeling bat and XTX™ Xtra Tough Resin Matrix technology provides the most durability and flexibility with an extremely low barrel compression.
Dimensions & Specs
Association
ASA(USA)
USSSA (1.20BPF)
NSA
ISA
ISF
ASA(USA), USSSA (1.20BPF), NSA, ISA, ISF
Association
ASA(USA)
USSSA (1.20BPF)
NSA
ISA
ISF
Size
30/, 31/21, 32/22, 33/23, 34/24
1 YEAR BAT WARRANTY FROM DATE OF PURCHASE
This Easton bat warranty covers all manufacturing defects resulting from normal field usage including: Denting, Cracking, Breaking, Loose or Detached End Cap or Rattling.
GHOST -10
is rated out of
5
by
263
.
Rated

4

out of

5
by
BallMom1994
from
Be prepared to have at least 3 on hand
Today my daughter hit 4 HR's with this bat! This is actually the 3rd Ghost we have had to replace. We purchased the 2021 Advanced hoping for more durability but it cracked in less than 1 month (always climate controlled and never used in cold weather). She plays A-Level travel ball so we currently have 3 Ghost bats. That way, she always has 2 while 1 is being replaced by Easton. So far, we haven't had any issues getting replacements. As long as Easton continues to replace the bats, I will continue to be a customer. To be fair, have also had cracking issues with an AXE bat. She loves the Ghosts so we will just keep extras on hand!
Date published: 2021-04-26
Rated

1

out of

5
by
Ronbron
from
Excellent Pop. Break way too often
We have been through 2 of these bats. Both lasting less than a year. Second one broke after one month. I would love to be able to recommend you to buy it but I can't at this time. Get something else that doesn't break. Please understand these bats are notorious for breaking.
Date published: 2021-04-24
Rated

1

out of

5
by
Seanly
from
Worst Bat made
This bat cracked within 6 months of buying it. This is my 4th Easton bat and all have cracked. The last one I lost my receipt and they would not send another.
Date published: 2021-04-20
Rated

5

out of

5
by
Addison03
from
Has not cracked!
I have had this bat for over a year. It has great pop and durability. I hit at least 100 balls a day with this bat, and I have not had a problem with it cracking. However, the paint had been chipping and there is something rolling around in the barrel. Not sure what it is but if I have to get a new bat I will definitely go with Easton.
Date published: 2021-04-05
Rated

3

out of

5
by
JNJ7
from
mixed feelings...
I bought this bat for my 12yr old daughter. She played very little last year due to Covid, but the bat cracked in the Fall. It was still within the 1yr warranty, so Easton replaced it. Had the replacement about a month, but outside the original warranty period (used only for inside front toss), and it cracked. Easton was great, and they replaced that as well. The 3rd bat was also only used inside (front toss), and it looks to be cracking. We just started games this weekend, so we'll see how long it lasts. Her coaches rave about the bat and say nothing compares, but at this price I would expect better quality.
Date published: 2021-04-04
Rated

5

out of

5
by
Softballmom71
from
Great Pop
First tournament with the Ghost and my daughter's hits were incredible.
Date published: 2021-03-31
Rated

5

out of

5
by
Macfam
from
Great at bat!
Surprise gift for daughter and loved it! Couldn't wait to hit! batting practice was popping!
Date published: 2021-03-30
Rated

5

out of

5
by
ADS1
from
Great bat!
My daughter hit her 1st homerun using this bat. I highly recommend it!
Date published: 2021-03-30
Rated

1

out of

5
by
Softball Mama
from
Horrible quality - bat cracks easily
We bought this bat in July 2020 and after about 3 months it cracked. Received a replacement bat under the warranty and it cracked after only about a month of use. Just received bat #3 under the warranty and have no confidence in its durability or that it will last until our warranty period is up. Total junk!
Date published: 2021-03-28
Rated

5

out of

5
by
thenley1
from
Hot bat
This is my daughter's third ghost. We have never had any issues with the bat cracking. She absolutely loves this bat!
Date published: 2021-03-26
Rated

1

out of

5
by
Mcmeenm16
from
Disappointed
We bought one of the ghost bats of n Feb 15 and was received on Feb 24th. Used it for hitting off a tee and then soft toss for 3 practices (over 200 hits) then used it a couple time in practice during practice with live pitching. It busted! We returned it on March 6 and the company received it on the 12th. We received the new one on March 16. Hit off a tee for at least 200 times and waited to used It in a game until March 22nd (it was over 70 degrees) and their is a spot on it. It is a triangle shape and looks like paint is coming off. We have never babied a bat so much. Now we are scared that it is a sign the the bat is going to break. Seems like all we do is fear that it will break and then we are out 300.00 because this is the the one time replacement. This has all taken place with in 1 month.
Date published: 2021-03-25
Rated

5

out of

5
by
MrFraley
from
Excellent bat
bought this for my daughter's bday shes loves it ..increased her overall batting
Date published: 2021-03-25
Rated

1

out of

5
by
Jennifer73
from
Didn't even last a year even through COVID
I bought 2 - 2020 Ghost Dual Stamp. We were in about 1/2 the normal tournaments and no league through COVID. One of them had a crack. That one was caught while still under warranty. Called Easton and they replaced the bat. That bat cracked less than 1 month of getting it back finally. We tried calling to have it replaced and they will not replace the broken replacement. The other bat was used less than the 1st one and it cracked 2 months after warranty. Easton will not do anything about that one either. If we were using it like normal years, it would have been broken in less than 6 month. Side note - the bats were always inside, not left in cars or garage. They were not used on cage balls or weighted balls (my daughters had old bats for that). Very disappointed in Easton and their customer service. I'll update my post if I get a call back from the message I left with them.
Date published: 2021-03-24
Rated

1

out of

5
by
Beware of the Ghost
from
Expensive piece of junk
Bought this bat for my daughter and it broke within 3 months. Received the replacement bat and it broke with less than 5 months use. My daughter is a 5'1" 120 pound slapper that takes very good care of her gear!! Contacted Easton customer service and they said they don't replace replacements. They also were not willing to offer any type of discount on a new bat. Ghost-waste of money, Easton customer "service"-waste of time. Good bye Easton, hello Louisville Slugger!!
Date published: 2021-03-22
Rated

1

out of

5
by
Itzel
from
Very expensive for it to break in six months
Not satisfied with the purchase it broke in a little over six months. Didn't know I could return it, when someone told me a month had passed from warranty. It's cracked almost all the way around. Very disappointed.
Date published: 2021-03-22
Rated

1

out of

5
by
Imnoexpert
from
Cracked in 1 Month
Bat was used for one month of high school season and is already cracked...I understand it can be replaced via warranty...ONCE. If the replacement bat lasts a month as well then $350 for two months worth of use is pretty expensive!
Date published: 2021-03-11
Rated

4

out of

5
by
lmw8605
from
So far so good
So far so good. I hear that a lot of them break but the bat is truly great just wish Easton would work out all the kinks.
Date published: 2021-03-05
Rated

2

out of

5
by
Kathya7
from
Not as expected
I have bought these bats in the past, but this one does not measure up! The ball does not come off the bat as well as the bats in the past. Lemon of a bat!!
Date published: 2021-03-02
Rated

5

out of

5
by
HBeth
from
Great bat
My daughter has always had a demarini bat. But she loves this bat!
Date published: 2021-03-02
Rated

1

out of

5
by
Jen27
from
Doesn't last
Bought this bat for my daughter March 2020 she barely played softball thanks to Covid.The bat didn't make it 6 months before a crack showed up and the finish even cracked. Lost the receipt due to email issues so now no recourse for a bat she barely used. It's time for softball and she has no bat.
Date published: 2021-02-27
Rated

1

out of

5
by
Barner57
from
bat had pop out of the wrapper- lasted 3 practices
Bat lasted 3 practices broke, and Easton is telling me that they know the bats crack but will replace it as many times as it breaks within the 1 yrs warranty. I don't understand how a company built on quality products can sell a defective product and expect to keep its customer base. I understand stuff breaks, but why would you sell something you know is bad.
Date published: 2021-02-22
Rated

1

out of

5
by
Jnunn
from
Bat cracks easy
This bat is great until it cracks. And they ALL crack. My daughter's entire team bought this bat, and 100% of the bats cracked. Even the replacement bats cracked. We're now on our third replacement bat. Easton just keeps replacing and refuses to give a credit toward another bat.
Date published: 2021-02-11
Rated

1

out of

5
by
Softball1968
from
Will never buy another Easton for as long as I am
Bought this bat back in September of 2020, broke in 3 weeks after 2 tournaments and practice, Easton sent me another and it has broke in about the same time... Both times the barrel cracked... Do not waste your $$, they will only replace it once. Everyone that has one of these are saying the same thing... My daughters team has 7 gorls playing with the Ghost and every single one of them have broke... Garbage bat, garbage company... I am done, all 3 kids will be staying with Lousville Slugger
Date published: 2021-02-10
Rated

4

out of

5
by
McC Hitter 2021
from
Great Bat and Warranty, But the Bats are Brittle
I love the Easton Ghosts. Nice balanced feel and lots of pop. However, I have had about 10-12 of them over the last 3 years and they are brittle. Some will last a month or 2. We have had 2 that didn't make it through one hitting session. The good news is that Easton has always honored their warranty and replaced the bate when it develops a crack or breaks.
Date published: 2021-02-04
Rated

5

out of

5
by
relwildcat
from
hot out of the wrapper
hottest bat ive seen right out of the wrapper, just hope the bat last. thats the only downfall ive heard on the bat.
Date published: 2021-02-03
Rated

5

out of

5
by
elynne
from
great bats
my daughter loves this bat and is pleased with the product
Date published: 2021-01-23
Rated

1

out of

5
by
PJRCPA
from
Cracked within 2 weeks of Use
Very disappointed. The bat cracked within 2 weeks of use from normal tee work and light front toss. Something like this shouldn't happen in 2 weeks. I know there is a warranty but seriously, cracking after maybe 6 to 8 uses, it is either a defective design or poor quality control . After talking to other buyers they tell me that same thing. Always sending the bat back for warranty and not at 10 months usually 1 to 2 months.
Date published: 2021-01-17
Rated

1

out of

5
by
RC22
from
Great bat but doesn't last. Waiting 3 mon on repla
My daughter had 4 ghosts ( bought 2 on sale and one was for someone else who never paid me so my wife loved that I did that ) starting in July . Cracked one in Atlanta Legacy showcase and 2 the next week at Gulfport in the NFA World Series Down to 1 and a half. Sent 2 back in September while another crack a Huntsville by now all 4 has cracks. We had to beg to send one bat for the scenic city or I was going to have to buy another one. They sent me one and said it could be a few more weeks for the other 2 to ship. That was thanksgiving. I have 3 bats that are broke with one good bat thus far for daughter to Senior year High School. I don't what the problem is but I need it fixed. Please let me know. Thanks
Date published: 2021-01-07
Rated

5

out of

5
by
Cornbread308
from
Great Bat!!!!
Another Great Bat by Easton!!! My Daughter absolutely loves this Bat! Great choice
Date published: 2020-12-23
Rated

1

out of

5
by
soccermom4kids
from
DO NOT BUY A GHOST BAT
We are on our third Ghost bat....the bat does not last more than a part of a season. We have had one replaced shortly after purchase and the replacement broke as well. My daughter received a third as a birthday gift and broke within the first 100 hits. Tried multiple times to contact Easton with a no receipt no replacement answer and a very slow responsive customer service. My daughter has been using 2017 borrowed used Louisville Slugger for the entire summer season and into the indoor winter session. NEVER again will I purchase an Easton product due to poor construction and customer service. Not sure about anyone else but I cannot drop $400 twice a year on a bat.
Date published: 2020-12-22
bvseo_sdk, dw_cartridge, 17.1.0, p_sdk_3.2.0
CLOUD, getContent, 34ms
reviews, product