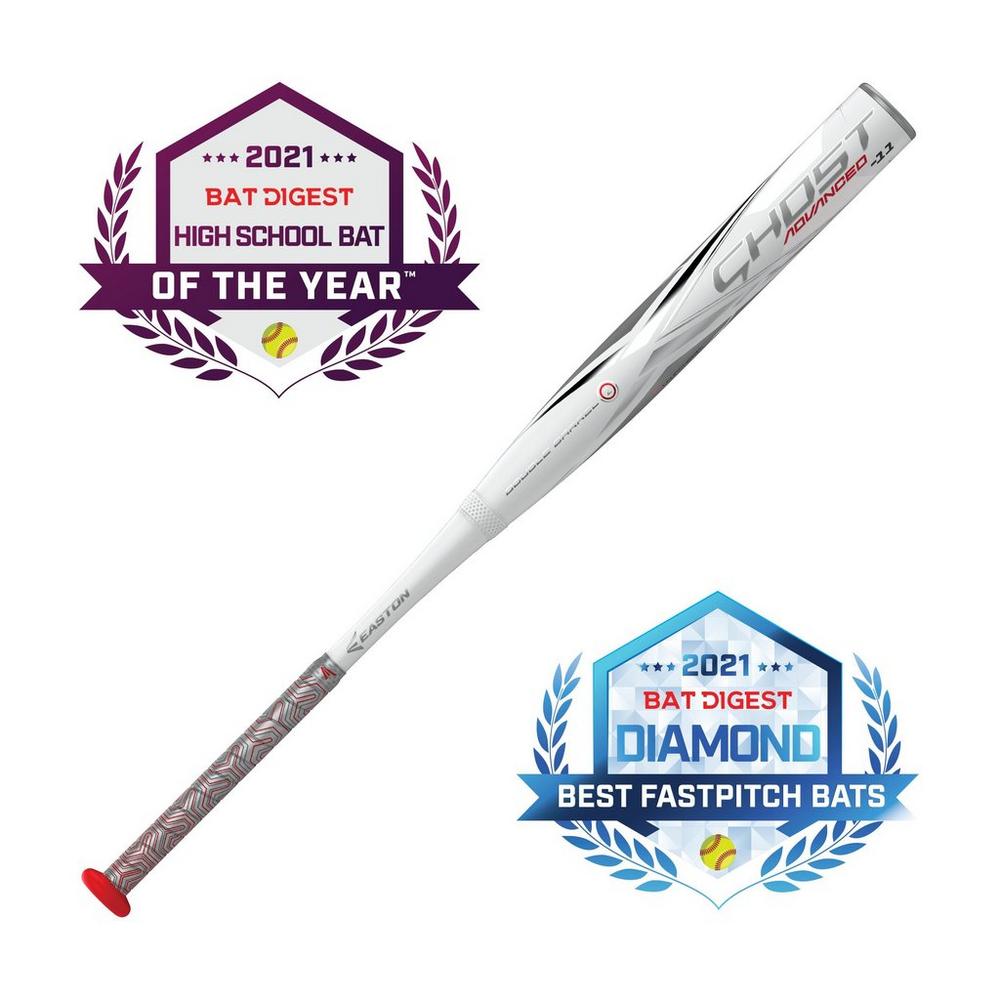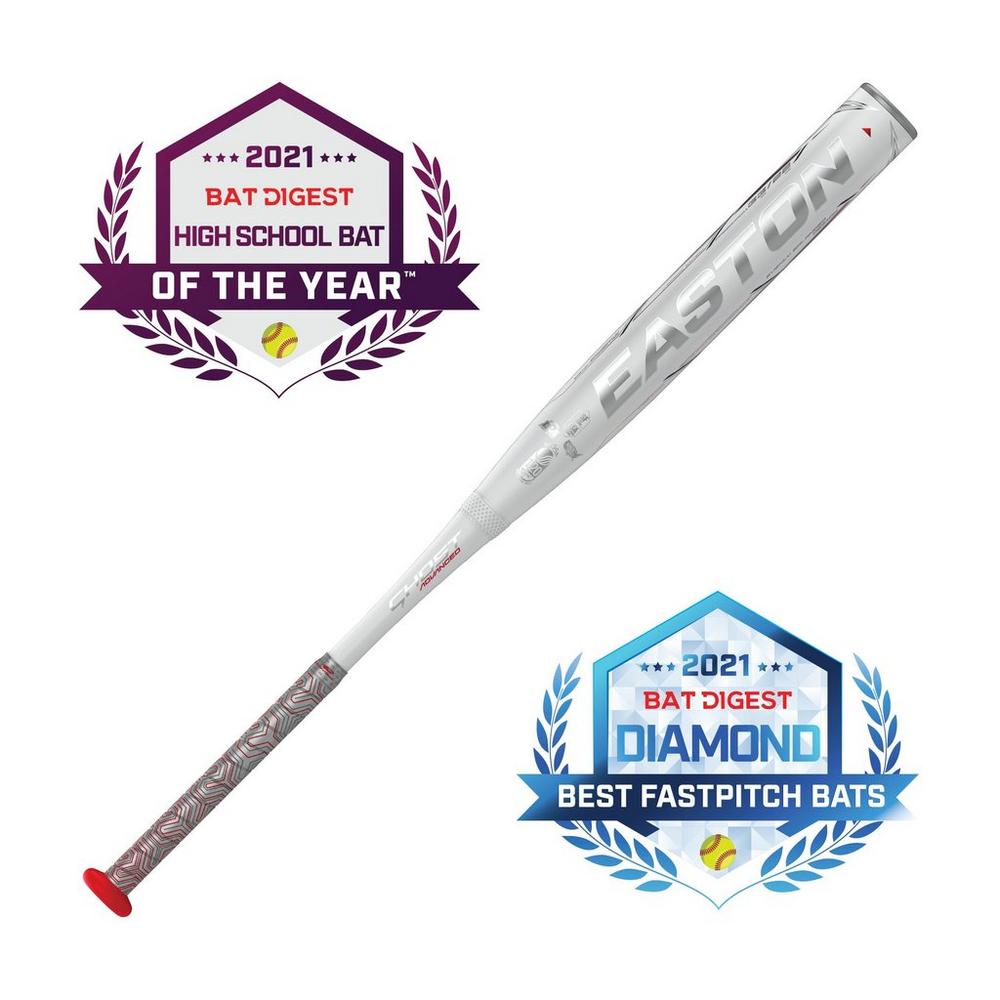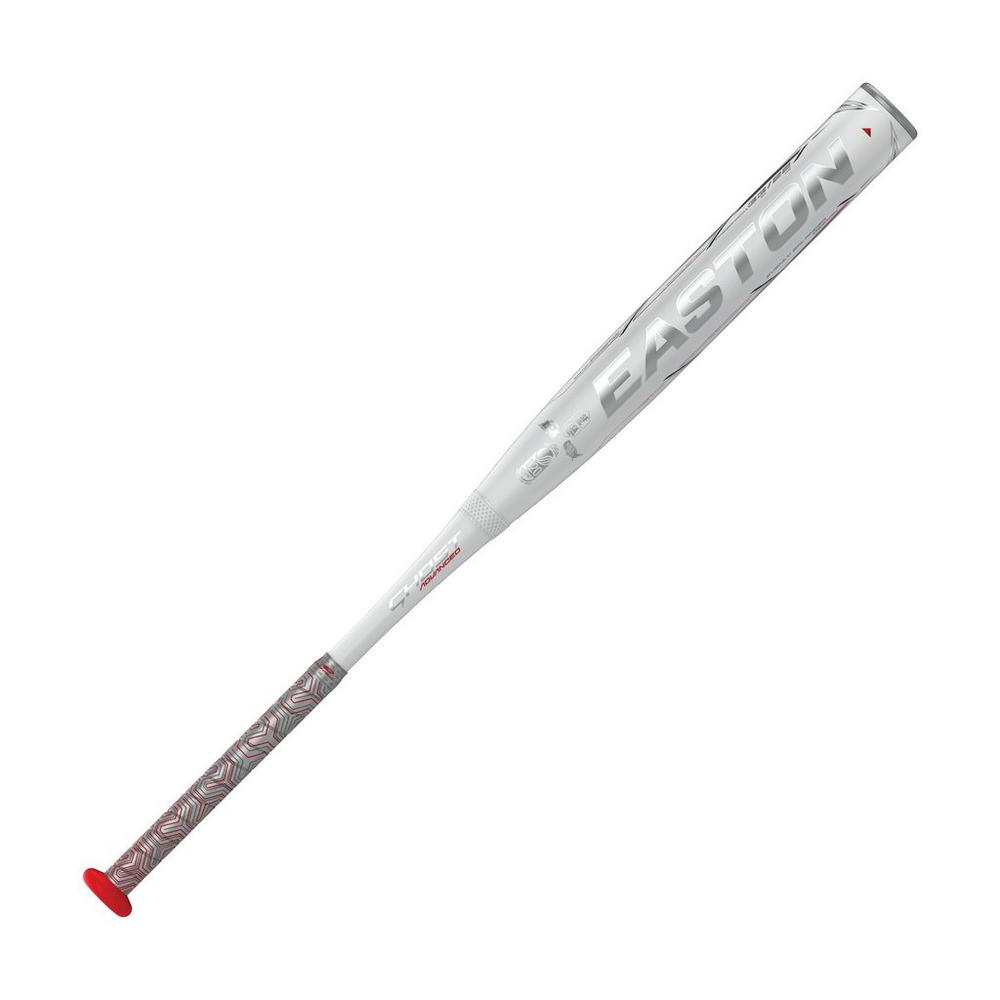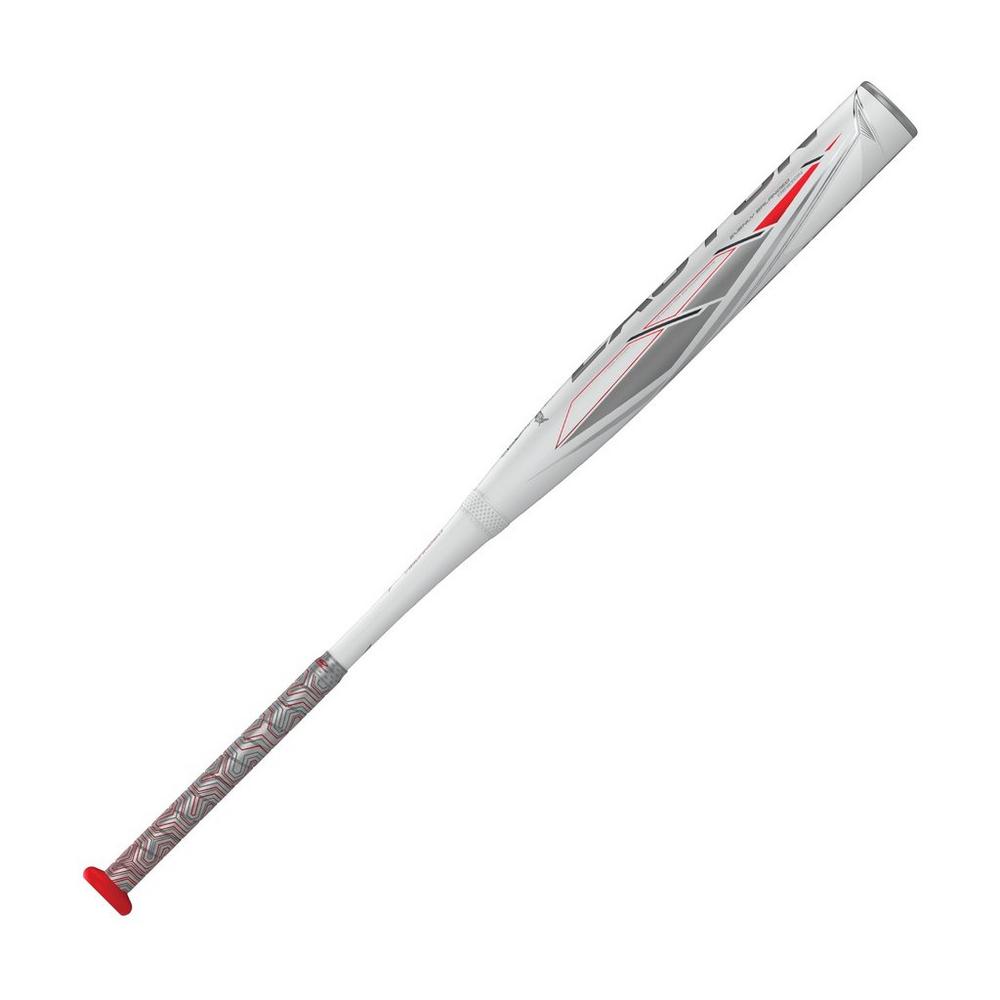 Images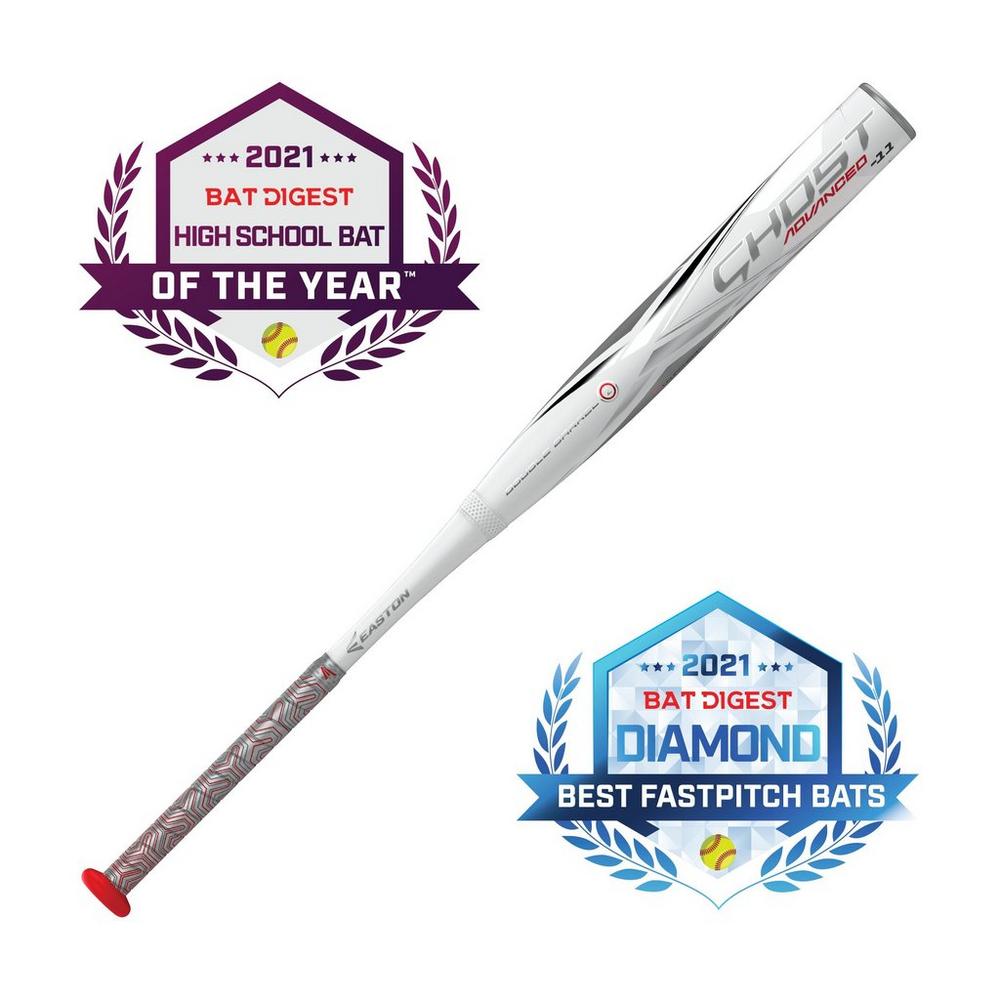 GHOST ADVANCED -11
FASTPITCH EVENLY-BALANCED DOUBLE BARREL 2 BAT
Item # FP20GHAD11
Details
https://www.easton.com/fastpitch-softball-equipment/fastpitch-softball-bats/dual-asa-usssa-approved/ghost-advanced--11-FP20GHAD11.html
GHOST ADVANCED -11
is rated out of
5
by
74
.
bvseo_sdk, dw_cartridge, 17.1.0, p_sdk_3.2.0
CLOUD, getAggregateRating, 144ms
reviews, product
The hottest bat in the game that is approved for ALL fields, just got hotter: the Easton® Ghost Advanced® fastpitch bat. Its second-generation DOUBLE BARREL 2™ design combines a lighter inner barrel with a stronger outer barrel, delivering the lowest compression in the game for maximum barrel flex and performance. Launch Comp™ Composite Technology allows for a longer, lighter, stronger barrel, creating an even bigger sweet spot. And now, our best feeling two-piece bat just got better: ConneXion Evolution™ delivers almost zero vibration by doubling the amount of Nitrocell™ foam injected into the ConneXion™ joint. Power Boost™ Soft Knob technology provides more leverage and power potential, all while reducing vibration and improving comfort for the bottom hand. Custom Lizards Skins™ grip, providing players with best-in-class feel, cushion and tack. Available in a -11 Dual Stamp model and approved for play in ASA (USA), USSSA (fastpitch only), NSA, ISA and ISF.
Technology & Features
Dimensions & Specs
Association
ASA(USA)
USSSA (1.20BPF)
NSA
ISA
ISF
ASA(USA), USSSA (1.20BPF), NSA, ISA, ISF
Association
ASA(USA)
USSSA (1.20BPF)
NSA
ISA
ISF
Size
29/18, 30/19, 31/20, 32/21, 33/22
1 YEAR BAT WARRANTY FROM DATE OF PURCHASE
This Easton bat warranty covers all manufacturing defects resulting from normal field usage including: Denting, Cracking, Breaking, Loose or Detached End Cap or Rattling.
GHOST ADVANCED -11
is rated out of
5
by
74
.
Rated

5

out of

5
by
Jeremy G
from
Great Performance, Prepare to use Warranty
Love these bats. Definitely see the performance. Prepare to have to send it in the first year for a warranty replacement as they seem to all crack.
Date published: 2021-02-15
Rated

1

out of

5
by
Softballdad1975
from
Like Glass
Easton should just send out 3 bats to each customer when they purchase a ghost Advanced. I've never seen a bat break so easily. Gone through 3 of them in 4 months.
Date published: 2021-02-12
Rated

3

out of

5
by
Travel dad
from
"Hottest Bat Out There"! My daughter's only choice
But comes with price x2. High price, short life even when only used in games, ie....no batting practice and pitching machines. My 11yrold has broken 2 in a year. As crazy as it sounds my daughter won't swing another bat. If they would drop the price i wouldn't mind the longevity as much.
Date published: 2021-02-02
Rated

1

out of

5
by
Catcher2024
from
Cracks immediately
I never leave reviews on anything... Like if I go to a restaurant and get the worst service possible I would just leave and not come back instead of going online and posting a bad review. However, this bat is so ridiculously priced that I feel like you people should be warned. We are on our third bat in less than 6 months. Most of the time it takes 3 weeks to get the replacement bat. Her first replacement bat cracked after using it TWICE. Yeah it's "hot" but guess what? The worst kid on the team still can't hit the broadside of a barn with this bat. It's not a miracle worker. It's just a bat. And it is not worth 500 bucks. High school season has just started and now we are without a bat because we had to send the cracked one back to get yet another replacement. DO NOT WASTE YOUR MONEY. We are currently looking at a Louisville and will have that bat for when this new replacement does what it does best.... Crack.
Date published: 2021-01-29
Rated

1

out of

5
by
No Pop
from
Poor quality
We bought this for our daughter on her 14th birthday last summer. Started out hot with lots of pop. Had to send it back for cracks in November Now we're sending that one back for the same reason. Not worth the money or hassles with so many other choices out there.
Date published: 2021-01-28
Rated

3

out of

5
by
Mark5269
from
Bat cracked
Bought the ghost advanced and it cracked within a month of using it. Not happy and trying to get in touch with Easton now. Easton, please contact me so you can replace bat. Before the bat cracked it was working great though.
Date published: 2021-01-26
Rated

1

out of

5
by
Disappointed in SC
from
Delicate
We're on our fourth in less than six months. most of the time has been passed waiting for a replacement. I would not recommend this bat to anyone that cared about quality, durability, performance or money.
Date published: 2021-01-23
Rated

1

out of

5
by
Post 86
from
Bat that cracks
Purchased for Christmas for my daughter didn't last an hour.
Date published: 2021-01-22
Rated

5

out of

5
by
Sassy
from
Great pop
Hottest bat my daughter has ever had. Hits further than her other Easton ghosts and even better than her Prism. Only problem is paint has several cracks already but the bat still seems hot, no break in time was required.
Date published: 2021-01-15
Rated

5

out of

5
by
SteveT
from
Great Pop!
This bat comes hot out of the wrapper. Great performance for 8-10 months. But like almost all hot bats, they crack after a lot of usage. Both of my daughter's have swung Eastons and Demarinis during the last 10 years, and the ones that hit the best always cracked. Easton has a fair return policy, and have always replaced my daughter's cracked bats once per purchase. If I only have to buy a new bat once every 1.5 - 2 years, I'm OK with that because they hit so well! Right now, Easton has the hottest bats and are worth the money.
Date published: 2021-01-05
Rated

1

out of

5
by
Jesseboy512
from
Terrible quality
I bought this bat knowing it's a gamble. That's my fault. The bat new was great. Great pop.( not as good as black asa ghost). The next week already had a crack. Used it again and cracked even more. Everyone I know that has one has had crack on them already. If the quality was great this bat would be worth the 449 price tag. It looks great. Feels great. But it will crack very soon. Legend has it that there is one out there that is NOT cracked. I've yet to see one. We call that one the white Buffalo because it's so rare. Good bat for a tournament if you have the money. If you want it to last longer than a year look elsewhere. I'm disappointed in myself for trying this trash.
Date published: 2020-12-08
Rated

1

out of

5
by
Ry76
from
Do not buy this bat
This bat has been used for 2, 1 hour batting sessions and cracked. The bat lasted for 1 week. Would not recommend anybody spending this kind of money for a bat with this many flaws. I cannot see the difference in this bat and the Demarini CF. Save your money theis ghost is not worth the time, money, or energy.
Date published: 2020-12-06
Rated

5

out of

5
by
Bear33
from
Hot hot hot
Hitting it with more power and consistency. Definitely recommend
Date published: 2020-12-06
Rated

1

out of

5
by
Adler18
from
Lasted one week
Bought less than a month ago and lasted two sessions of batting practice then cracked on both sides of the barrel. The durability of the bat dis not pass but the performance was great.
Date published: 2020-12-05
Rated

2

out of

5
by
B014
from
Common issues
My daughter swung this bat during a demo and after just one swing she loved the feel of it. Even after reading the reviews about durability still bought the bat in Feb 2020. We did everything that is recommended by keeping it out of the cold weather and not using it with a machine. In the games it did not fail to impress. Sadly the bat has lived up to its reputation and is starting to split at the connection point. I filed a warranty claim and the bat has to be sent back to Easton to be approved for a replacement, so we will see what Easton decides. If it is approved, which it should be, I do not know how long it will take to have it replaced. Luckily we do not have any games right now. My daughter and her teammates love the bat but if you buy this bat just know that within a few months it is very possible that you will need to have it replaced
Date published: 2020-12-04
Rated

1

out of

5
by
upsetparent09
from
VERY DISAPOINTED
For the high price of this bat it should defiantly last longer than month. I bought the bat for my 14year daughter a the end of June. By he end of August the bat had spider cracked around the entire barrel. Sent it back and received a replacement in September. In November the bat cracked in 4 places. Warranty will only be valid up to a year from the date of purchase. I work too hard for my money to just throw it away. Paying top dollar for a bat that can't preform longer than a month is ridiculous. This is the first and last bat I will ever buy from EASTON. I am so upset.
Date published: 2020-12-02
Rated

2

out of

5
by
Unsatisfied
from
Broken promises
We purchased this bat and it cracked in the first month. The team at Easton sent us a demo due to the pandemic shut down. In less than three months that bat has cracked as well. This issue has occurred with 5 other girls in our organization. I wish Easton would honor this with in store swaps as these girls now go without bats for weeks.
Date published: 2020-11-22
Rated

2

out of

5
by
Easton Fan
from
Hot to Not!
Huge Easton Fan! I used a Green Eastons growing up then a graphite with carbon core. Great bats! The company replace 3 green Eastons from flattened spots and cracks. With that said this bat for my daughter is great out of the wrapper. She turns it in her hands on ever swing. Never used with pitching machine just live pitching. The connection point is getting very loose and is starting to splinter. It has been 6 months. Easton please fix the problem in the future or risk losing life long fans. I still use may old bats so Easton you can do better! I give it 2.5 stars it should be more durable for the price point. If you want to pay for instant pop spend the money. You well go through 2 in the fall and 2 in spring.
Date published: 2020-11-10
Rated

5

out of

5
by
Work
from
Great GAME Bat !!
Daughter has this bat and it's hot right out the wrapper. No problem with durability as we use this bat specifically in game at bats. This is not a practice bat or a cage bat. If you're expecting a bat to hit bombs in the cage I'd get another bat.
Date published: 2020-11-08
Rated

1

out of

5
by
Anonymous
from
Bat cracked after little use!!!
The bat was Big money and cracked very disappointing!!!
Date published: 2020-10-21
Rated

1

out of

5
by
RK24
from
This Bat Should Be Recalled
Ghost Advanced should be recalled This bat is extremely hot...however it will spend more time sending it back to Easton and waiting for a replacement, than it will in your daughters bat bag. $475 for a bat that cracks over and over again, $475. One more time, $475. We play 12U travel ball, these girls aren't powerhouse hitters. The team has gone thru 8 of these bats just this fall. 1 yr warranty equals 6 months in your bag and 6 months back and fourth to Easton. These bats need recalled and everyone that has one should be reimbursed. What happens when that yr warranty is up??? Save your money. Buy two bats that will last much longer for this kinda of money. It's a shame cause my daughter loves this bat!
Date published: 2020-10-12
Rated

1

out of

5
by
TrailMix4All
from
Cracked After Minimal Use
Any bat in this price range is a good bat. It's not a good bat when it cant be used 40 days after buying it. This one, like many other reviewers have noted, cracked in just over a month. Would not recommend.
Date published: 2020-09-16
Rated

2

out of

5
by
wobblebat
from
Flexes/ Wobble at the handle to barrell
This bat has been used in 2 games, practiced with 2 times as well all by my 10 year old daughter... The barrel and handle wobble back and forth... Now we have had several easton bats in the past with no problems The fact that there is no one there to take phone calls is ridiculuos... They can have offsite support from home like most other modern companies.... Especially when they are selling out of bats at $450.00 per bat. I have put in an email to support with a video, just want to know if that amount of flex is normal
Date published: 2020-09-03
Rated

5

out of

5
by
SIS9
from
The GHOST ADVANCED is hot!
My daughter loves the weight distribution and balance of the bat...absolutely LIVE!
Date published: 2020-09-03
Rated

5

out of

5
by
JohnB
from
Great bat
This bat has great pop! If you are considering a Ghost, spend the extra money for the Advanced, the hits will be worth it.
Date published: 2020-09-02
Rated

1

out of

5
by
RL78
from
Waste of Money
Bat is separting at barrel and handle and splintering at bottom of barrel. Only had it for a few months. Third ghost bat to fall apart in the past 8 months for us. Others having the same issues on my daughter's team.
Date published: 2020-08-30
Rated

5

out of

5
by
Preacherkevint
from
Exactly what we knew it would be!
My oldest daughter has this bat and my youngest wanted one just like it. Extremely hot right out of the wrapper.
Date published: 2020-07-21
Rated

5

out of

5
by
MBali
from
Good Performance
I bought this a couple of weeks back and my daughter loves it. We have observed a microcrack or paint chip on the bat but has not affected performance, though we will get it checked out at the end of her season.
Date published: 2020-07-16
Rated

5

out of

5
by
Mama Linda
from
Advanced
my daughter loves her new bat, so much power and pop
Date published: 2020-07-01
Rated

3

out of

5
by
JoshJosh
from
my daughter loved the bat until it broke.
I would have given more stars but I sent in for warranty and have not been able to speak to anyone or even get confirmation that they received the bat. Games are being played so Easton should probably step up and have someone social distance themselves to the mail room and approve and deny the cracked bats coming in.
Date published: 2020-06-23
bvseo_sdk, dw_cartridge, 17.1.0, p_sdk_3.2.0
CLOUD, getContent, 67ms
reviews, product